How a Diamond Painting Kit can enhance your room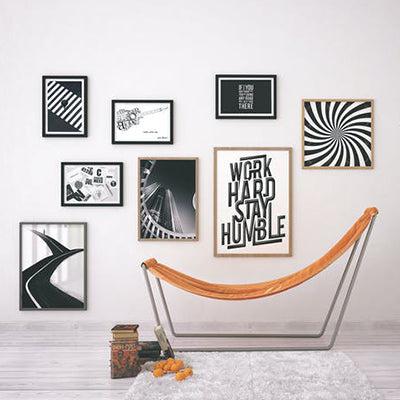 Are you looking for a quick, easy and fun way to effortlessly transform your living space into a stylish & inviting haven? Maybe you feel like the bare and incomplete walls are draining the life out of your room. Sprucing up a room doesn't have to cost you an arm and a leg. You simply need to engage your creativity and let your imagination run free.
But don't get us wrong, the process of decorating your room shouldn't be done haphazardly. Strategy plays a huge role. Picking a set of images from the same collection is one sure way to have your space looking prim and proper in no time.
Do you want to learn more about how and why you should consider this route? You'll never go wrong with art. Why not include diamond paintings to liven up that dull corner?
Keep reading to find out why using a set of images from the same collection will work in your favour.
1. Creates a Co-ordinated Look
Placing images on your wall, be it artwork or paintings, isn't as straightforward as you think. The wrong combination of images can create a seemingly disorganized look. Incorporating all sorts of tones, colors and patterns will make a room look too busy.
By using a set of images from the same collection, you're one step closer towards creating a beautiful, coordinated and cohesive look to give your room that touch of elegance. Picking the right color scheme helps achieve this
Painting Diamonds allows you to purchase kits that enable you to make multiple similar images. Simply create a set of paintings based on your preferred color scheme that matches your home décor. Frame the paintings and place them on your walls to instantly create a synchronized look which will leave your visitors envious.
2. Easily Creates Harmony
Still on the subject of color, by using a set of images that are the result of diamond paintings Australian crafters can easily create a look that exhibits harmony. As you're probably aware, different colors have different meanings and give off certain energy in a room.
Bright colors create a fun and cheery atmosphere which would work well if you're decorating a child's room. Earthly tones make people in the room feel more grounded.
By collecting a set of images from the same collection, you can establish the mood you're trying to create in your space. This gives you an indication of the colors that you must put together when making your paintings to achieve the desired outcome. And the best part is that the artwork will give off the same texture and feel. All of your paintings will be comprised of cultured beads which look and feel incredibly unique.
Quite honestly the same balance is difficult to achieve if you buy random artwork. And, generally speaking, when it comes to the design world conflicting textures and patterns are a big no-no.
3. Grouped Artwork is More Appealing
Did you know that grouping your images by creating a photo grid is more appealing than placing them separately? And even more so if you're using images that are somewhat similar in design. First establish the kind of wall art that you like. Are you a fan of animals, scenery or bright patterns?
Grouping your images not only creates drama and texture, but also significantly increases visual impact. Ever heard of a focus point? This is the area in the room that draws a person's eyes or attention. The overall effect is even more apparent if you use images from the same collection.  
If you're working a budget, collecting a set of images or photographs from the same artist (as appealing as it sounds) might not be possible. But you can create the same dazzling effect on a budget using diamond paintings.
4. Pull the Room Together
You're bound to have different elements in your room apart from your wall images. But the idea is to ensure that everything in the room ultimately represents your overall style and personality. By including aspects from the same collection, you instantly and effortlessly pull the room together to give it that professionally designed feel.
Final Words
Apart from making a room look more organized, using a set of images from the same collection improves the room's overall aesthetics. And we're certain a visually appealing space is the ultimate home goal, right?
A set of images made up of diamond paintings will make your room look bold and eye-catching in the best way. The next time you want a budget-friendly art set to decorate your room, think Painting Diamonds. You can't go wrong with them.

Check out our article on Diamond Painting Tools