Diamond painting lightpads – Uses and Benefits for Artists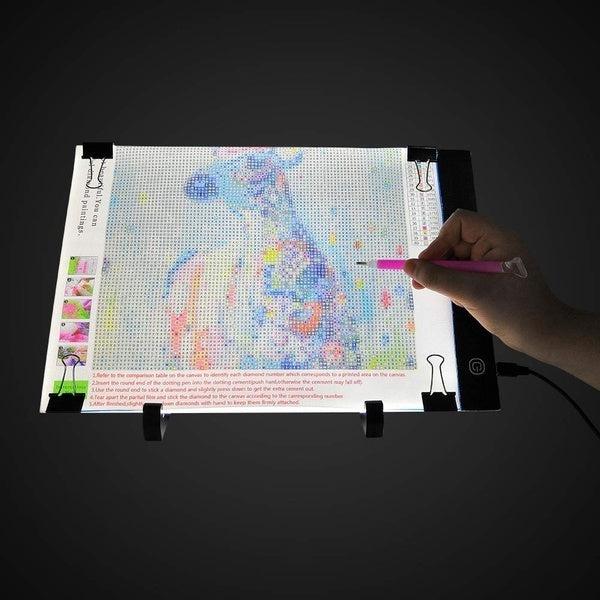 Diamond painters are always looking for new ways to make the diamond art process easier. One of the latest tools to use for diamond painting in Australia is a bright light pad. Not sure what a light pad is? Then this article is for you!
We'll explain what a light pad is, how it functions and the benefits it provides diamond painters. There are also light pad alternatives you can use. Read on to find out what they are.
What is a Diamond Painting Light Board?
A diamond painting light pad looks similar to an iPad. Some designs may be bigger but essentially it's a thin lightweight gadget that shines a bright light through your diamond art canvas. A light pad is a handy device if you're working in low light conditions.
There are two types of light pads to use. One is battery operated and the other is a corded device. The battery-operated light pad is portable because it doesn't need an outlet to power the device. Corded diamond painting light pads are suitable to use at home because it needs to be plugged into work.
Benefits of a Diamond Art Light Pad
Diamond art light pads have become an essential tool for diamond painters in Australia. They're inexpensive devices that make the diamond painting process easier. Take a look at the four benefits of a diamond art light pad below.
1. Crafting At Night
If you're a night owl or only have time to work on your diamond painting in the evenings then a light pad is a must-have tool. The device helps illuminate your canvas to help you see better in low light conditions.
2. Differentiate between drill colors
Often, there are diamond drills that look like they're the same color. Using the incorrect color on your grid can affect the aesthetics of your diamond painting. A light pad shines a light through the diamond drills you're using so you can clearly see the difference in the tones of the drills. This will ensure you use the correct color on your canvas every time! Learn more about diamond painting drills.
3. The Grid is easier to see
Sometimes it can be difficult to see the small squares that make up your diamond painting pattern. A diamond light pad makes it easier for you to see the grid on your canvas. With a well-lit view of the grid, you can ensure that you place your diamond drills neatly into the provided spaces. Learn more how diamond painting rulers can help aligning your diamond paintings.


4. Improves the quality of your Diamond Art
A lighting pad can make the diamond art process more enjoyable and relaxing. But most of all, this device helps improve the overall quality of your diamond painting. The light shines through the bottom of the canvas so you can place diamonds into smaller spaces more precisely.  
Other ways you can use a Diamond Painting Light Pad
Light pads are versatile devices that can be used for various art projects. Most artists use light pads to create drawings, vinyl stickers and to illuminate ornaments or figurines. You can also use your light pad to illuminate canvases for acrylic or oil paint by numbers.
 Additionally, a light pad allows artists who use elaborate fonts to write. It's used to draw precise lines especially for complicated writing such as calligraphy. 
 An illuminated surface is ideal for artists that want to duplicate drawings or paintings. These devices are suitable for comic book artists, sculptors and even photographers to view slides.
Diamond Art Light Pad Alternatives
If you don't have a light pad for your diamond painting or you're saving up to get one, there are temporary alternatives you can use:
Makeshift light pad: To make your own light pad, use a large clear lunch box or storage container and place a flashlight underneath it to illuminate the box.
Glass tables: place a bright white light from a flashlight or your SmartPhone under the glass table. The light should shine brightly under your canvas when you place it on top of the table.
Tablets: if you have an iPad or any other digital tablet, you can use it as a light pad. Download a picture that's completely white, and then open it up in your gallery. Make sure your screen brightness is way up. Then place the tablet under your canvas to light it up.
Although there are light pad alternatives you should consider investing in a proper diamond painting light pad that you can simply switch on and use without the effort.

Interested in learning what is a diamond painting read more here.

Final Thoughts
Whether you're a beginner or a pro at diamond painting, a light pad will make the process so much more enjoyable and stress-free. There are many affordable light pads on the market or visit your local diamond art online store in Australia to buy a high-quality light pad specifically designed for diamond painting.
To check out our locally stocked Light Pads, please check it them out here.