How to Turn Your Personal Photo into Art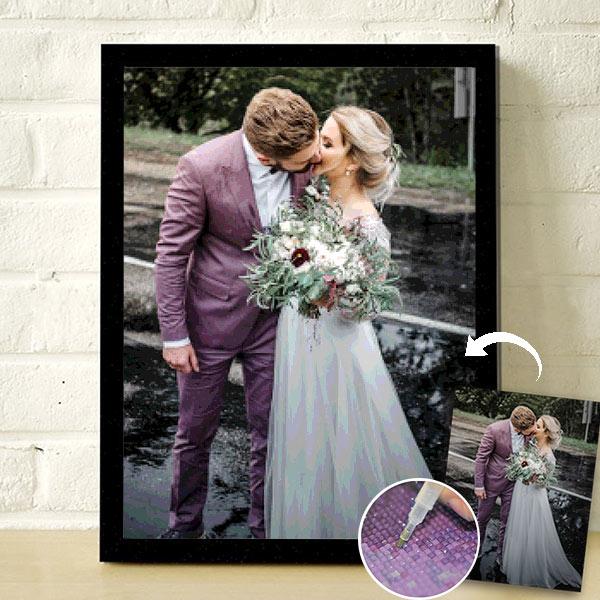 Sometimes it's difficult to find the right kind of personal gift for a loved one. Mugs with names on them are popular personalized gifts but most people have so many coffee cups that there's simply not enough space for all of them.   
Nevertheless, there is another type of personalized gift that's all the rage at the moment. It's called diamond painting. Generally, you get to select an image of a butterfly, horse or flower when picking a kit. On the other hand, you can customize your diamond painting with your own photo.  
Today we're giving you a complete guide on how you can customize your diamond painting either for yourself or as a personalized gift for a loved one. Continue reading to find out more.  Purchase a custom Diamond Painting.
What is Diamond Painting
? 
Diamond painting is a new kind of art form that combines the mediums of paint by numbers and cross-stitching. With a diamond painting, there's an image that's printed onto a canvas. Then you apply tiny resin diamonds to the color coded canvas.     
The advantage of diamond painting is that the finished image sparkles when light reflects off of the surface of the diamonds. These diamond paintings make an excellent addition to any room of your home.   
Why Customize Your Diamond Painting Image? 
Some people prefer to have diamond paintings of their loved ones or pets in their homes rather than random pictures. Diamond painting photos make unique pieces of art in the home that you can treasure forever.  
How to Turn Your Photo 
into
 Art 
Select Your 
Diamond Painting
Store 
 For diamond painting there are many stores to consider. Pick one that offers you variety and quality kits. When you've found a store you like check to see what types of diamond paintings they have available such as the following:  
LED light diamond kits

 

Multi

-

panel kits

 

3D diamonds that have three facets

 

5D diamonds that have five facets

 
Additionally, you must pick the size and shape of the frame you want. Check to see what the store has available for you so you know it will align with your needs. Perhaps not all of them offer the custom service of turning a photo into a diamond painting canvas.   
Pick the Photo You Want to Turn Into a Diamond Painting
Once you've picked the size and shape of the frame as well as the type of diamond kit, pick the photo you want to turn into diamond art. Ensure the image you select is in digital format so you can upload it onto the store's website or send it via email for customization. 
Select a digital photo that is at least 1000px and has an aspect ratio of either 1:1, 3:4 or 4:3. The high pixels and aspect ratios are to ensure that your photo has the highest quality when it's converted to a diamond painting.  
Upload the Image to the Diamond Painting Website
After you've selected the photo you want to convert into a diamond painting it's time to upload it onto the store's website. There should be a tab where you can attach files. The site will detect how big the image is. If the photo is the correct size you can click the submit button.  
To order your kit for diamond painting stores may sometimes ask to send your picture via email. To send your image via email, go to the website's contact page to find the address. Add the address to your recipient section on your emails to send your image through.   
Then sit back and relax while you wait for a response.  
Receive a Quote
 and Pay
 for Your Customized Diamond Painting 
After the diamond painting company receives your photo, they may send you a quote for the size and type of kit you want. Check to see whether this quote is in your budget and if it includes a delivery fee.  
Paying for delivery is the better option because if you've chosen a large frame it may be difficult for you to transport the diamond painting in your car.  
How to Get Started on Your Diamond Painting
To get started, carefully remove all the items from the diamond painting kit. Lay your canvas out on a clean flat surface. Select the color diamonds you want to get started with and pour them out into the tray that's provided.  
Apply adhesive or wax to your diamond pen and then use it to pick up your first gem. Match the diamond to the corresponding symbols on your canvas. Keep going until you've finished your diamond painting. 
Final Thoughts
Once you're done turning your photo into a stunning piece of diamond painting art, you can place it in a frame and hang it on your wall. If you're giving the diamond painting to a loved one as a gift, then allow them to enjoy doing the diamond painting themselves.  
It's easy to turn your personal photo into art. For diamond painting there are many stores that can convert your image for you. Then you can have the fun of transforming your photo into sparkling art as you work. Buy a custom Diamond Painting