Painting Diamonds vs. Paint By Numbers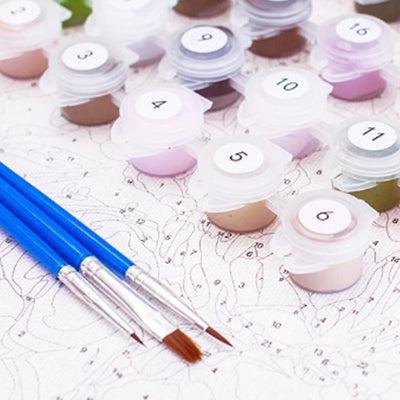 Are you looking for various mediums to create stunning pieces of art? Then you should try painting with diamonds. Or if you want to learn how to paint with proper structure of highlights and shadows then you should opt for paint by numbers.
In today's article, we'll be discussing these two art forms. They are both excellent mediums but perhaps you'll prefer one over the other after our comparison. Disclaimer: We LOVE both!
Diamond Painting and Paint by Numbers Comparison
Some people, especially those that are beginner painters, may not know what diamond painting or paint by numbers entails. We'll give you all the information you're looking for so you can pick which one you want to try first.
What is Diamond Painting?
Diamond painting is a new art form that was first introduced in 2015. It was designed as a faster and easier alternative to cross-stitching. This art form is a cross between cross-stitching and paint by numbers. 
How it works is simple: an image is provided with a thin plastic layer on the top. There's an adhesive layer under the plastic which is DMC coded. The adhesive allows you to stick tiny resin diamonds that match the DMC codes on the surface to create stunning works of art.
Once all the diamonds with the correct colors are placed on the canvas it will reveal the image with a glittery finish. You can hang these images on your wall paired with the correct lighting so it can shimmer and gleam.
The Difference Between 3D and 5D Diamond Painting
3D diamonds are small stones or drills that are approximately 2.5mm x 2.5mm in size. Each stone has 9 facets in total with three on each side of the stones.
5D diamonds are drills that have 15 facets with five on either side of the stones. These stones reflect more light so they sparkle more than the 3D gems.
Diamond Painting Kits  
There are various diamond painting kits on the market but, for the most part, they all come with these four items:
A diamond applicator tool
Strong wax
An assortment of colour diamonds
Canvas material 
You have a choice of four diamond painting kits:
General diamond painting kit: These kits are available in a multitude of designs and are suitable for beginner diamond painters. General kits come in a variety of shapes and sizes but the smaller ones are ideal when you're starting out.
Custom kits: A custom diamond kit allows you to pick your own picture you'd like to paint. Ideally, you want a high-resolution picture with at least 1000px for your canvas. You're able to order these kits in any size you want. They come in 3D or 5D kits.
Multi-panel kits: Do you want two or more canvases for your wall? Then select a kit that has multiple panels in it. This kit is suitable for moderate to highly skilled diamond painters. It requires patience because these kits are much larger than your general packages.
LED light diamond kits: If you want a painting that shines brightly then opt for an LED light diamond kit. The canvas comes with an LED light installed at the back of your canvas to illuminate your artwork.
What is Paint by Numbers?
Paint by numbers is a much older art form compared to diamond painting. Max Klein and Dan Robbins introduced it in the 1950s. The idea of paint by numbers is to prove that anyone could create a masterpiece with the use of the correct colours and paintbrushes.
A canvas is provided with an image comprised of lines with numbers inside of it. Paint pots are given with a number on top of each one. A person uses the numbered pigments to match up with the digits on the canvas in order to start painting them. 
Types of Paint Used
There are acrylics, watercolors and oil painting kits to pick from.
Acrylic paint is easier to use therefore it's suitable for beginners. It's a water-based paint that's easy to clean and its colors tend to be brighter. 
Oil paints need turpentine to thin out the pigments and make them dry quicker. This type of paint is more difficult to use so it's ideal for moderate or professional painters.
Watercolor paints are lighter. These pigments are easy to work with and only require water to use the paints.
Paint by Numbers Kits
Paint by numbers kits come with the following items:
Numbered paint pots
A canvas with numbers on them
Various sized paintbrushes for detailing
A paint palette
You can get kits in various sizes with any design you want. There's also a custom design option so you can select a personalised image to work on. 
Final Thoughts
Even though paint by numbers is a relaxing and fun way to unwind it's a traditional art form that's ideal for beginners. But diamond painting is a lot easier to do because you don't have to blend your colours or try to create more detail with brush strokes.
Creating a diamond painting is therapeutic but it's also unique. So if you want stunning wall art or want to give someone a gift they'll never forget—get a diamond painting kit and get ready to unleash your inner artist.