What comes in a Diamond Painting Kit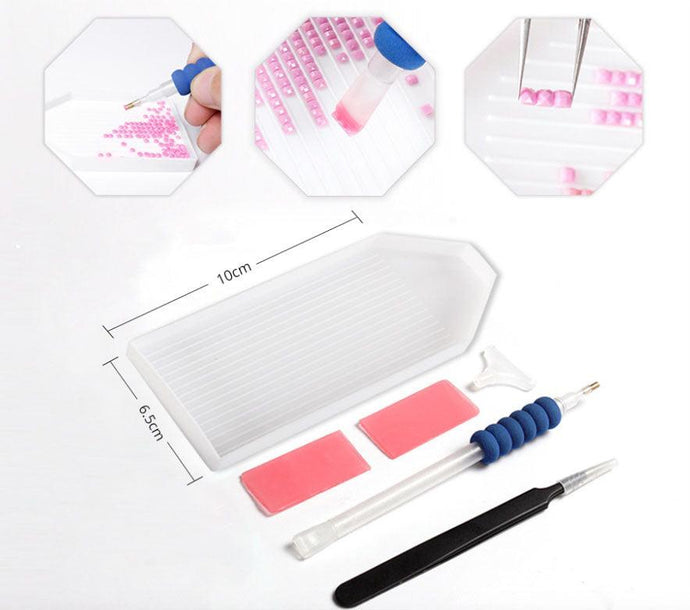 So, you've discovered the wonderful world of Diamond Painting, it's amazing huh? This guide will cover everything that comes with 5D Diamond Painting Kits and what you should know before purchasing your first kit.
Color Coded Canvas
Firstly, and most importantly, all Diamond Painting kits come with a color coded canvas, making sure that you can follow the colored & lettered steps to create your master piece, or - you can go it on your own and provide your own unique spin and color set to the canvas. But don't worry, most of our sets come with a picture of the set so you can follow at home.
Also, after you purchase a few kits, you'll find you will have extra diamonds around, so these can be put to good use for the future. 
Diamond Drills
We typically stock two types of diamond drills, a square or a circle - depending on the set purchased. Circle vs Square diamond drills are really a matter of preference and experience whereas circular diamonds are generally preferred by beginners, as they're super simple to pick up and place on the canvas, and are extra sparkly especially on large paintings. 
Square diamonds provide the perfect fit, leaving the canvas with very minimal to no gaps, and also provide the 'snap' effect, leaving you with a very satisfying snap sound when all surrounding diamonds are placed on the canvas. 
Ultimately, there's so many unique diamond art kits to choose from, both with Painting Diamonds and elsewhere, so the possibilities are countless. It really comes down to preference and experience, but for newcomers we typically recommend the round diamonds as they're easier to apply. That said, if there's an art piece you like that's only available in square diamonds, don't be afraid to give it a try, as the difference isn't that big, but more on that topic to come. 
Wax
The wax is the glue to apply the diamond pieces to the canvas. Every kit comes with a stick of wax which is typically about 30% too much wax on normal applications, leaving you with spares at the end. When getting started, be sure to remove the plastic film from the wax, exposing it so you can use the drill pen into the wax until it's full. 
When dipping the drill pen into the wax, you'll have to make sure that it penetrates the wax entirely, filling the pen to it's maximum. 
Diamond Painting Tweezers
A simple, yet handy tool to have with your 5D Diamond Painting Kit, the tweezers are the "break incase of emergency kit" to help you remove a misplaced diamond. Obvious Tip - if you happen to misplace or break your tweezers provided, you can use a typical pair of tweezers that would come with a beauty kit, they'll do the job just fine. 
Diamond Painting Storage box
The drill container is used to store the color diamond your currently applying to the canvas. This method is typical for beginners and intermediate DIY'ers, as it's best to complete one set of colors at a time. More advanced practitioners have different approaches and methodologies when applying, but we think it's best to go one color at a time!
Check out our article on diamond painting storage containers
Tip - When the drill container has diamonds added, be sure to give the container a gentle shake, so that the diamonds fall nicely into place within the container, ready for easy pick-up with the faceted side up, and easy application to your canvas.
Amazing Diamonds
The diamonds themselves are each bagged by their color and labelled with a number that corresponds with the canvas is also a code which can be used to order more from Painting Diamonds. We find that our kits come with about 30% more than you would need, leaving you plenty for mistakes, accidents or just spares for future.  
Bonus Tips
Bonus #1 - Peel off one side at a time
When you start your canvas be sure to peel off one side of the canvas at a time. The canvas needs to stay clean and free of dust and debris, so it's best to only peel the sticky plastic off one side at a time.
Bonus #2 - Peel the opposite side to your dominant hand
Simple and logical tip, but we suggest peeling off the side, opposite to your dominant hand. As an example, if you're right handed we recommend peeling and starting from the left side first, and vice versa if you're a lefty. Predominantly so you're hand doesn't stick to the canvas, which is always annoying.
Bonus #3 - Keep your canvas covered
So, depending on the canvas size you've purchased, you'll probably need multiple sittings to complete it (You could of course sit there for a few hours and complete it all...), so if you're going to leave your masterpiece in an 'in progress' state, it's best to keep the canvas covered. This makes sure that no debris and dust is on your masterpiece. 
Bonus #4 - Diamond Paintings make a great Christmas present
Diamond Paintings are the perfect gift this Christmas, check out our article about Christmas Diamond Paintings