What Comes in a Paint By Numbers Kit?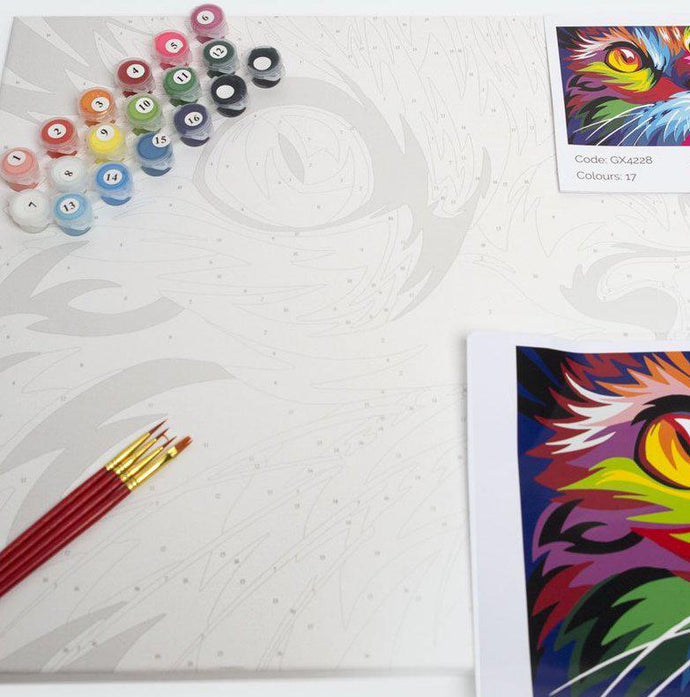 What Comes in a Paint By Numbers Kit?
Paint by numbers is an easy therapeutic way for beginner artists to learn how to paint. There are various paint by numbers kits that have all the items you need to start with your painting. However, some kits don't come with certain items you may require.
In today's article, we'll be discussing all the tools that come in quality paint by numbers kits to ensure you purchase a package that's equipped with everything you need to get started.
Types of Paint By Numbers Kits
There are various types of paint by number kits to pick from such as unframed, framed, acrylic and oil packages. Framed paint by numbers kits come with a few extras such as mounting hardware and an easel to help make the painting process easier.
On the other hand, unframed kits have hardboard canvases so that you can paint the image without using weights to hold the edges down.
These kits come in many different sizes and some of them are even custom made. With custom made kits an image of your own choosing will be printed on the canvas and you can select the size you want it to be.
The Canvas
The canvas that comes in your kit will have the image printed on it with lines and numbers inside the body of the design. A canvas will either be hardboard or stretched over a wooden frame. Canvases are typically pre-primed.
A primed canvas ensures that the paint doesn't soak through the material and facilitates the spread of paint over the surface.
Various Sized Paint Brushes
Each kit will come with four or more paintbrushes of different sizes. Some brands will sell add-on paint brushing kits if you want alternative brushes. These brushes can be flat, round or linear in shape to assist with the larger, smaller and finer details of your image. 
Typically paint by numbers brushes have synthetic bristles made from nylon or polyester. However, there are kits that include brushes made with natural fibres such as hog or badger hair. It goes without saying that paint by numbers brushes must have soft bristles to create an even finish. 
A Small Colour Image of the Original Picture
Every kit will come with a small colour image of the one that's printed on your canvas. This is to be used as a reference when you've made a mistake on your painting or when you need guidance on detailing.
The small colour image acts much in the same way as the picture on a puzzle box. Use it to avoid making mistakes, to assist you with the finer details, as inspiration to keep going and to never lose sight of the bigger picture. 
30+ Paint Pots With Numbers
Your kit will come with 30 or more paint pots in various shades of every colour. For example, yellow may have three different shades of dark, medium and light.
Each paint pot will be labelled with a number. Match these numbers with the digits on your canvas so you can colour the sections correctly. 
Mounting Hardware
If you've selected a framed paint by numbers kit, you'll get mounting hardware in your package. Use the mounting kit to proudly hang your painting on your wall after you've painted it.
If you're painting with the motivation to use your end result as a stunning piece of home décor, pay careful attention to the image you pick and ensure it matches your home's interior.
Easel
Not all paint by numbers kits come with an easel, so try to pick one that does have this extra tool in your package. An easel supports your painting while you work so the canvas won't move. It also creates more space in your painting area because the canvas is placed in an upright position.
Set of Instructions to Follow
If you're new to paint by numbers you'll have all the guidance you need with the instructions manual found in your box. Read through the instructions carefully to make the painting process easier for you to complete.
And remember, if you ever need a helping hand—our blog is full of helpful resources to guide you on your painting by numbers journey. 
Final Thoughts
Paint by numbers is an excellent gift to give loved ones on birthdays and during the festive season. However, you must ensure the paint by numbers you buy is equipped with all the tools needed to successfully complete the painting.
Make sure the kit you purchase comes with everything you need and you'll be painting your way to success before you know it.