Why 5D Diamond Paintings are so popular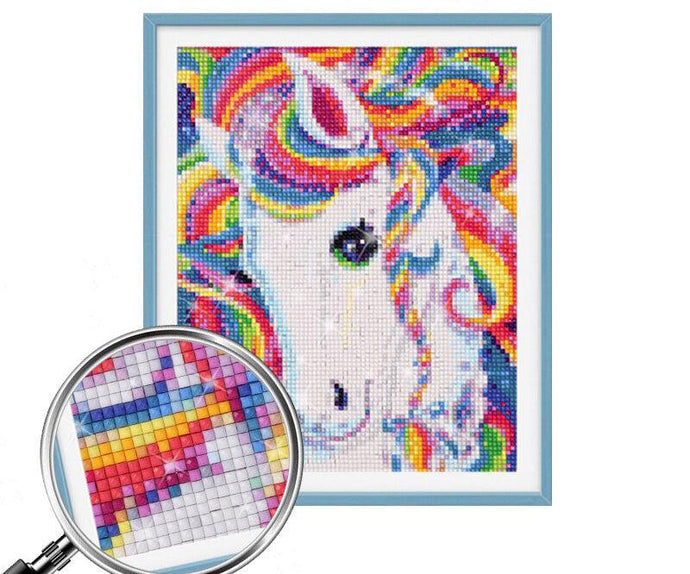 Why 5D Diamond Paintings are so popular
Trends usually come and go. But then there are fads that simply STAY and become part of people's lives for the long term.
If you're part of the movement of 5D Diamond Painting - whether that's in the United Kingdom, Australia or the United states, you'll agree that this is one of those trends that won't easily disappear. Best of all: it's growing! And if you haven't tried it we want to share everything about this interesting craft experience with you. 
Here's why it's the trend worth following at the moment.
Firstly, It's Fun for Everyone
When you open the simple 5D diamond painting kit you unlock mounds of fun. Working with all the components is enough to spark hours of happiness: kids love working with the waxy substances and the sticky surfaces. But in the process, they create beautiful pieces of work, and has them dedicated to a task for hours on end. And for adults, being surrounded by colourful objects is enough to spark creativity, relaxation and joy.
It's stimulating, but not difficult, creating the perfect environment for a fun time alone or with friends. Isn't fun something everyone needs once in a while? And that's why this industry is booming!
And let's not get started on the range of options you have in terms of designs. There's something to suit anyone's style and preferences.
It's Your Chance to Escape
As stated above, this task is fairly easy. You do need to concentrate, but you won't feel exhausted after doing it.
Here's what we suggest: put on some calming music and start getting into your routine of looking at the next spot on the canvas, finding the appropriate colour stone and sticking it in place. This routine can take on a calming rhythm.
This rhythm in itself can be the ideal way to escape from a hectic work routine.
For most people, daily office work is rushed and stressful, but completing a 5D diamond kit is the opposite, making it an attractive weekend activity.  
It Satisfies a Need to Achieve
People have an innate need to achieve. Even though working on your diamond painting is relaxing, it's also a time to build your confidence. You'll be surprised how positive you'll feel after seeing your painting get completed section by section. It's almost like achieving an immense goal in life by arriving at different milestones.
And once you're finished with the kit, a frame is all you need to turn the canvas into an art piece for your home. You can create a feature wall in an instant and be proud of your achievement of dedicating your time and effort having finished a masterpiece.
You Can Do it Anywhere
This craft activity is bound to boom in 2020 because there are so many scenarios for a diamond painting kit locals can enjoy:
Yes, purchase a 5D diamond painting kit to do over a weekend at home.
Why not purchase one for all your kids for Christmas, or a holiday - and enjoy a family activity together?
Join a class or start a group where friends bring their kits and enjoy a creative session together?
It's compact enough to use in school classrooms or if you're visiting an elderly relative.
5D Diamond Painting Helps You Connect
We've mentioned doing a 5D diamond painting kit on your own if you need some solitude. But don't forget to try it out with you friends too. Or make new friends by joining a local craft group that does diamond painting. There's a range of facebook groups not only focusing on arts & crafts, but also dedicated to completing Diamond Painting kits, and providing their knowledge and experiences of the new art form online.
 As soon as you get organised, know which symbols relate to which coloured stones and get a rhythm going, you should find it easy to still talk to others while you work. This makes it an ideal activity to get to know others a little better without awkward silences spoiling the day. If no one says anything it's not a problem! That simply means they're concentrating on their diamond paintings for a few minutes.
Yes, introverts, you've just found the perfect activity to help you make new friends, without being forced too far out of your comfort zone.
It's Affordable
Granted, many hobbies can provide you with some of these features. But not all of them are so affordable as diamond painting. When trying out diamond painting, Australians and diamond painters collectively across the world, find it budget friendly - even if they do it on a regular basis. Because kits are priced according to size you can simply invest in the ones that suit your pocket.
You can see that diamond painting meets many needs that modern consumers have: the need to relax, achieve and share their lives. Will you be one of the lucky few who benefit from this trend in 2020?
Check out our extensive guide on how to get started with Diamond Painting.